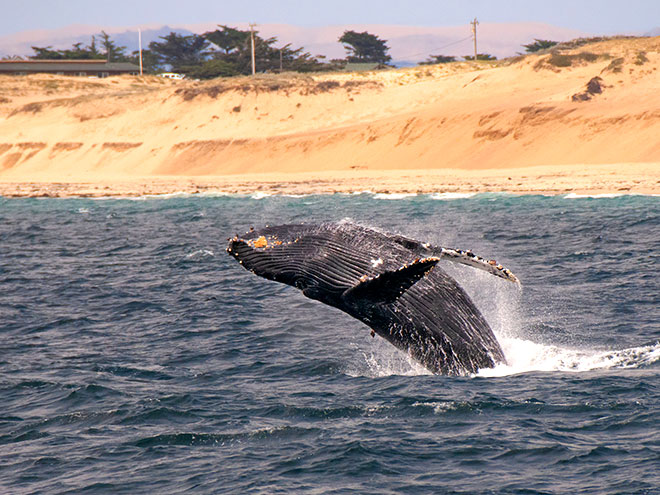 Outdoor Activities
Reconnect with nature in Monterey. Explore beautiful beaches and coastal trails for that-needed break from staying indoors. Pack the car and your sense of adventure and go have some outdoor fun on beautiful Monterey Bay.
Kayak Monterey Bay from Fisherman's Wharf
Go whale watching with Adventures by the Sea
Cruise along 17-mile Drive along the coast to Pebble Beach
Walk the 2.7-mile Monterey Path of History to local landmarks
Bike and walk the Monterey Bay Coastal Recreational Trail
Take a road trip down the coast to Carmel and Big Sur for stunning views
Golf Courses
The Monterey Peninsula is home to the most beautiful and playful golf courses on the California coast. From the Nicklaus layout at The Club at Pasadera to the Links at Pebble Beach, chase birdies in Monterey.
Monterey Beaches
Explore the beautiful beaches of Monterey. Whether kayaking from McAbee Beach, walking the boardwalk at Del Monte or swimming at the Municipal Beach, Monterey is the ultimate beach destination.
McAbee Beach - This small beach and cove below Cannery Row is a scenic spot kayaking and scuba diving.
Monterey Municipal Beach - Adjacent to Fisherman's Wharf, this beach is popular for sunbathing, swimming, and kayaking.
Del Monte Beach - Swim, boogie board, sea kayak, and chill on this scenic beach. Walk the boardwalk through the dunes and enjoy a picnic on the sand.
San Carlos Beach - At the west end of Cannery Row, San Carlos Beach is popular spot for scuba diving, swimming, body surfing and relaxing on the sand.
Monterey State Beach - This beautiful state beach on the southern end of Monterey Bay is great for walking, sunbathing, swimming, paragliding, fishing, and sea kayaking.
Outdoor Dining in Monterey
Monterey has a vibrant food scene with incredible restaurants and many outdoor patios overlooking the bay. Known for its fresh seafood and culinary spirit, Monterey is one of the best places to eat on the Northern California coast. Try the clam chowder.
LALLA Oceanside Grill - Dine on the outdoor patio on Cannery Row. This casual California grill offers fresh seafood and scratch-made coastal fare. Try the cioppino.
Sardine Factory - Experience the food from this iconic Cannery Row restaurant to-go. Enjoy fresh, sustainable seafood and corn-fed aged steaks. Try the abalone bisque and calamari puffs.
Estéban Restaurant - Enjoy modern Spanish cuisine and house-made sangrias on the outdoor patio at Estéban at the Casa Munras Garden Hotel & Spa.